Ordinarily, the headline on this post wouldn't be such a big deal. Bears QB Jay Cutler and his celebrity girlfriend Kristin Cavallari reportedly hit the town after the Bears' big win over the Jets to celebrate.
That's cool, right? Why shouldn't they?
However, deeper investigation by the Deep Dish reveals differences in two online reports about the celebration. NBC Chicago says:
... the pair hit Market Bar with a couple of friends to celebrate the team's big win.

Cutler chowed down on the Southside Slugger (1/2 lb fresh ground Black Angus burger with smoked ham, angry onions, cheddar & finished with a fried egg) and a Stella. Cavallari ordered the Rookie with cheddar cheese (another version of the Angus burger with shaved red onions) and a Blue Moon.

Our spies tell us that the pair kept the PDA to a minimum, but Cutler did have his arm around her several times during dinner. However, the real love affair was between Cavallari and her order of truffle fries, which she kept talking about all night.
Ew. Anyway, what's worse -- the image of thinking about Cavallari making love to an order of truffle fries, or the headline on that article, which calls the due "Kris-Cut"?
Then there's this article from People Magazine, which has them at an entirely different location:
Reality starlet Kristin Cavallari and her boyfriend, Bears quarterback Jay Cutler, celebrated his big win over the New York Jets with dinner at Joe's Seafood, Prime Steak & Stone Crab in Chicago. The bundled-up pair joined two friends, and ordered up Alaskan king crab legs and a 24-oz. dry-aged bone-in rib eye steak.
Sounds tasty. Maybe they went out two different nights. But what's tasteless is the photo that accompanied the People Magazine article: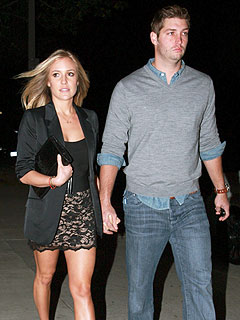 ... in which Cavallari looks, well, hot, and Cutler looks like a slob who couldn't bother to finish getting dressed before he went out. C'mon, Jay. You're heading to the playoffs and maybe the Super Bowl. Stop dressing like a high school kid.